Kitchen Cleaner Sachets
16 sachets = 8L | 25 sachets = 12.5L
How to use them?

Grab your reusable bottle.

Add water.

Pour a sachet and shake!
Usage

Our eco-certified cleaner is tough on grime and dirt, yet gentle enough for use on a wide range of surfaces, including countertops, sinks, walls, vinyl, and more. 
Tip: For glass and stainless steel surfaces, please use our Glass Cleaner for better cleaning results
Partner Pricing

We value our partners as key contributors to achieving our mission of promoting sustainability.

Annual charter pricing and green comittment available on request. Visit our partner page to find out more.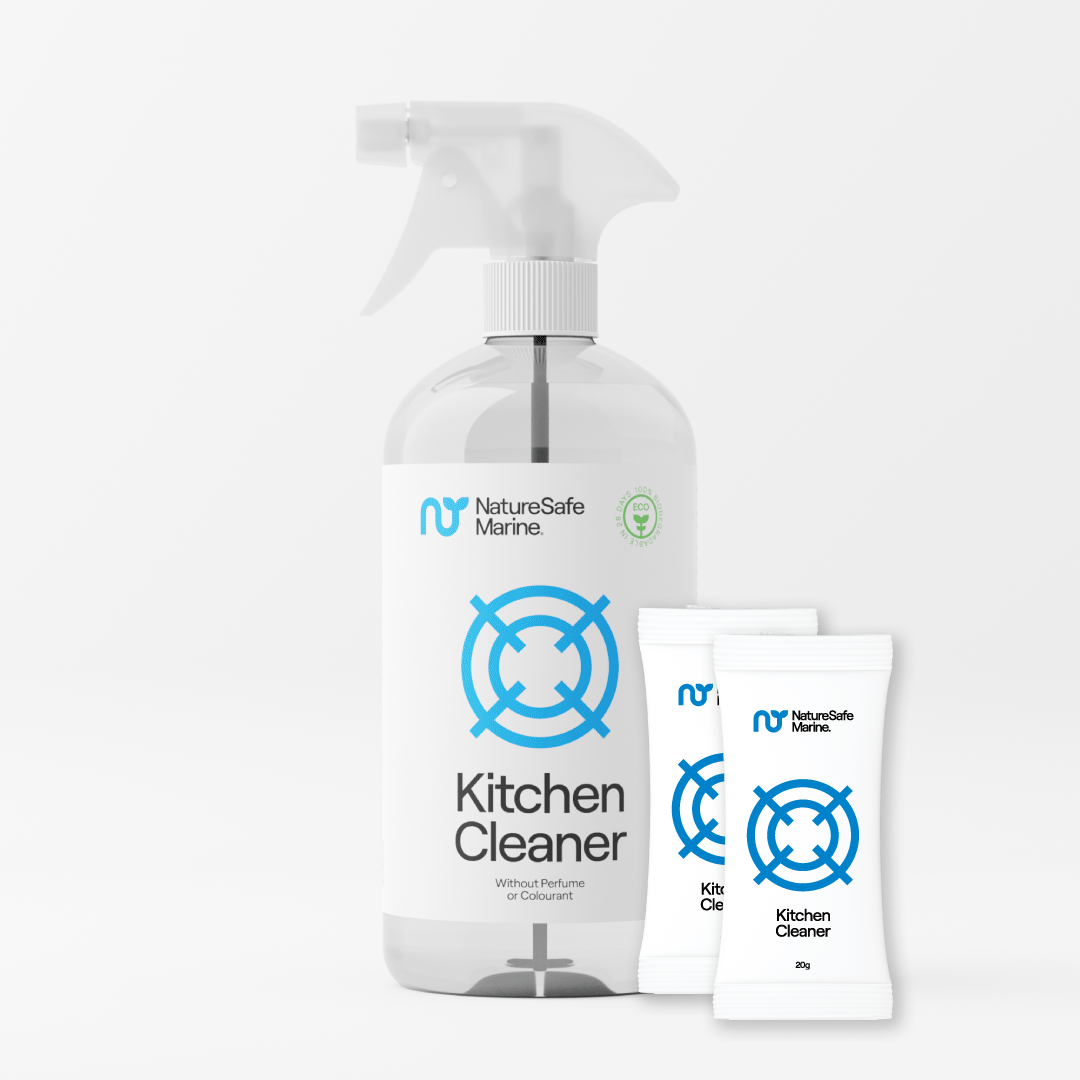 Pre-Order
We are accepting pre-orders.
Please provide your contact details, and we will reach out to you.
Contact us
Product Benefits
Benfits for the Crew

95% less storage required.
Reduction of waste on board.
Proven effectiveness.
Non-toxic; no protective gear
required during cleaning.
No respiratory issues and
health concerns for people.

Non-toxic & No Harsh Chemicals

Non-toxic, plant-based, and
biodegradable.
Generates less waste.
Reduces CO2 emissions during transport.
Eliminates the use of single-use plastic.

Benefits for Yacht Owners and Charter Companies

Products are gentle on yacht
surfaces, preventing damage.
Cost-saving, products ensure
a longer life span for colors.
Non-flammable.
FAQs
Are your products plant based?

Yes! Our products are plant based. You can learn more about our key ingredients on the About Our Products page.
Do your products contain fragrance or colorants?

No, non of our products include fragrances or colorants. The reason is that both fragrances and colorants are usually very toxic to aquatic life
What are the shelflife of your products?

Our All Purpose Cleaner has a shelflife of 3 years after the manufacture date which is printed on the bottle