All Purpose Cleaner
Regular price

Sale price

€5,89
Volume: 500ml
Introducing our All Purpose Cleaner – your 'go to' solution for keeping your surfaces sparkling clean! This eco-certified cleaner is not only environmentally friendly but also incredibly effective. It is specially formulated to tackle tough grime and dirt on all hard surfaces. 
Usage

Our eco-certified cleaner is tough on grime and dirt, yet gentle enough for use on a wide range of surfaces, including countertops, sinks, walls, vinyl, and more. 
Tip: For glass and stainless steel surfaces, please use our Glass Cleaner for better cleaning results
Certifications

EcoCert
EU Eco Label
Vegan
100% biodegradable in 28 days [OECD 301B]
Ingredients

Aqua - >30%
Alcohol Denatured - <5%
Capryl Glucoside - <5%
Sodium Carbonate - <5%
Sodium Citrate - <5%
Trisodium Dicarboxymethyl Alinate - <5%
Citric Acid – 5-15%
Non-Ionic Surfactants - <5%
Partner Pricing

We value our partners as key contributors to achieving our mission of promoting sustainability.

Annual charter pricing and green comittment available on request. Visit our partner page to find out more.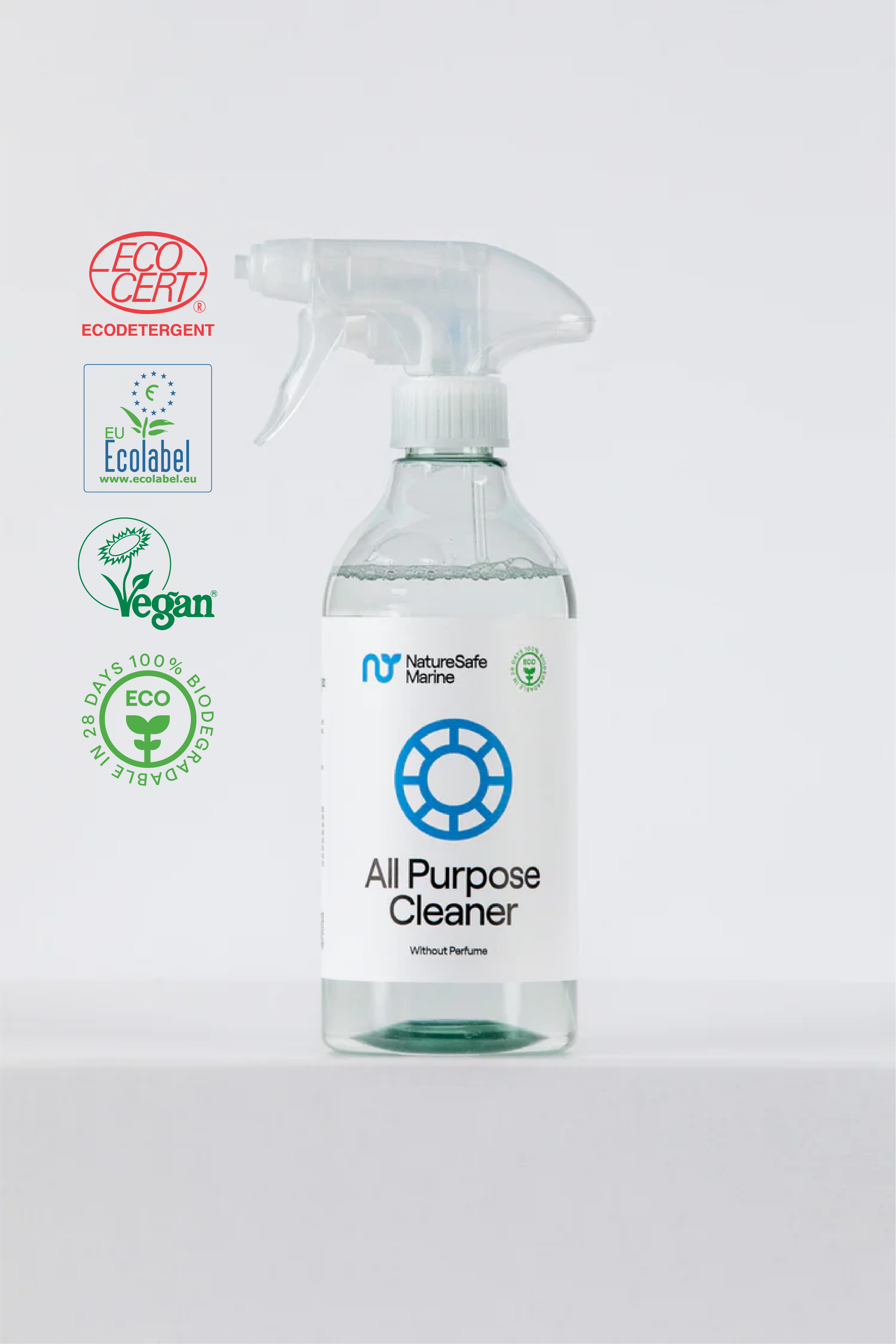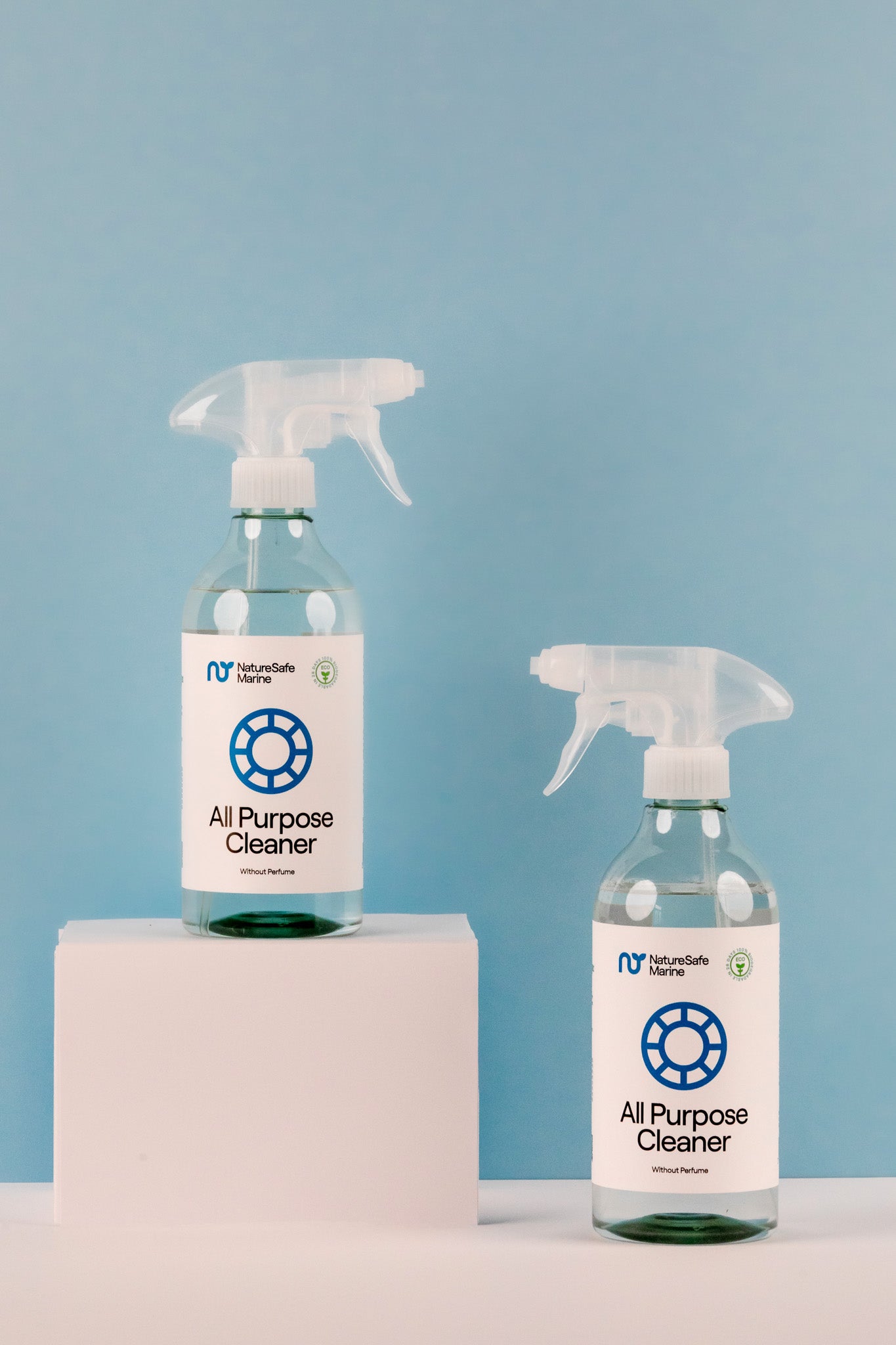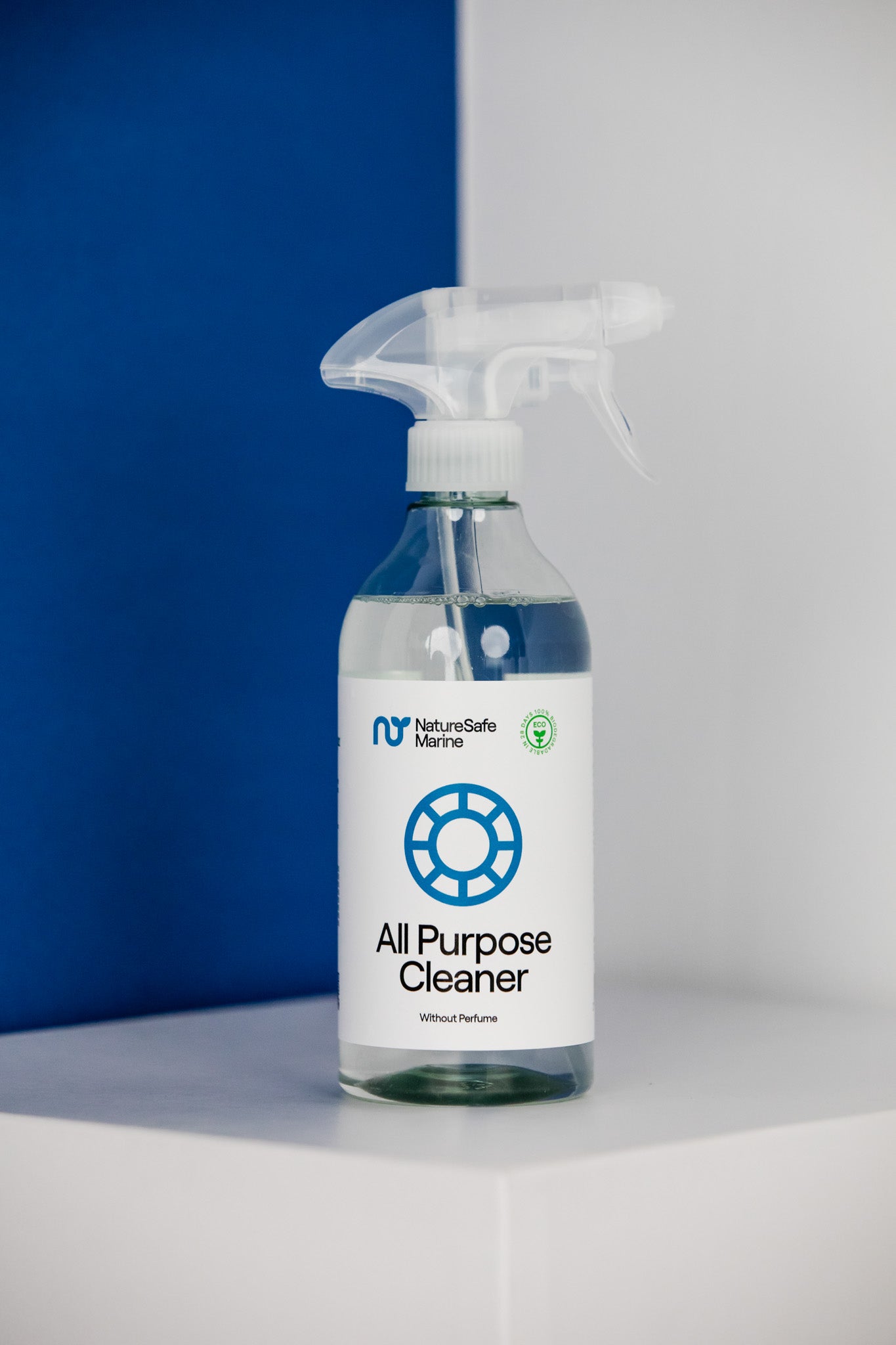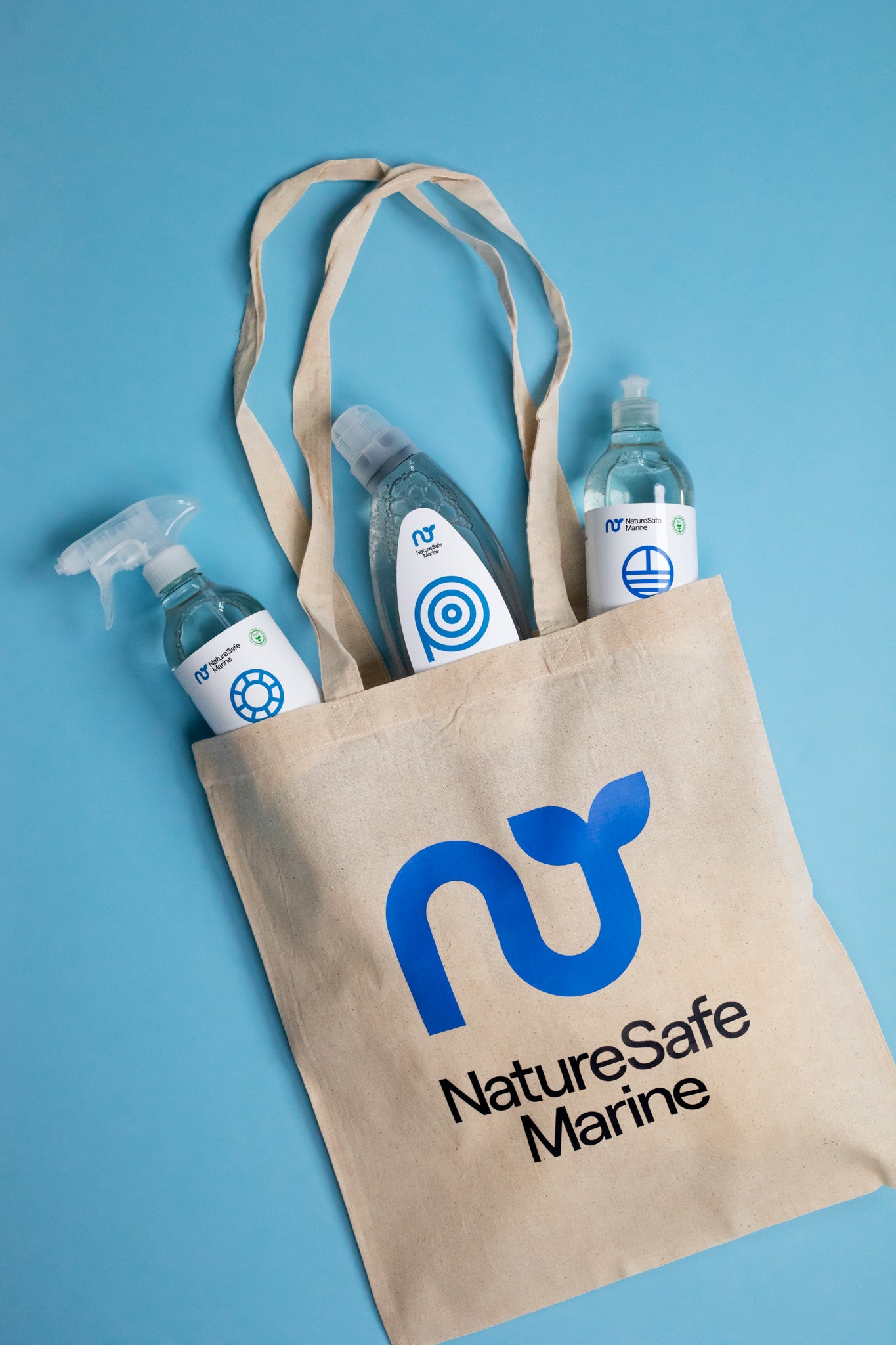 Product Benefits
Non-toxic & No Harsh Chemicals

That harm marine life
or the environment

100% Biodegradable Within 28 Days

Documented by a Sturm
Test

Superior Cleaning Power

That effectively removes dirt, grime, and stains

Safe To Use On All Surfaces

Protect the surfaces on your yacht
Certifications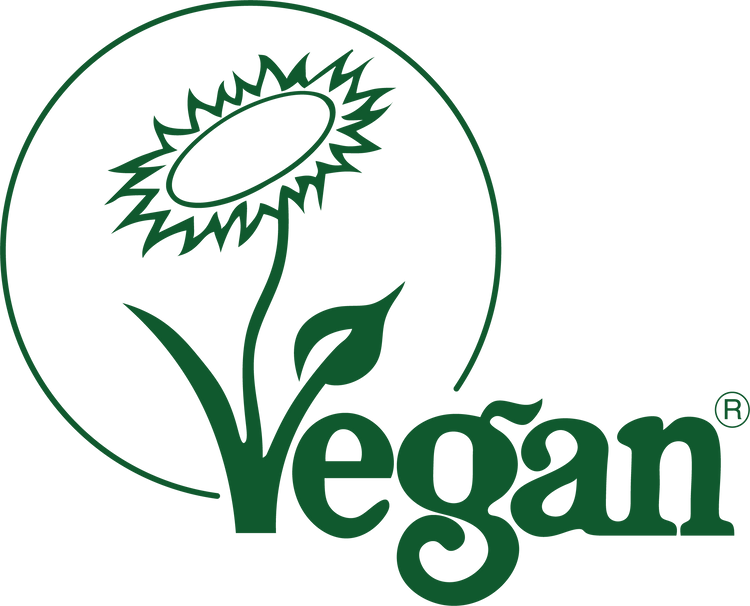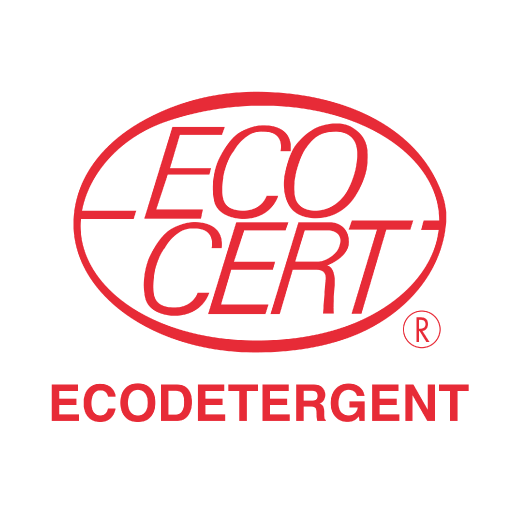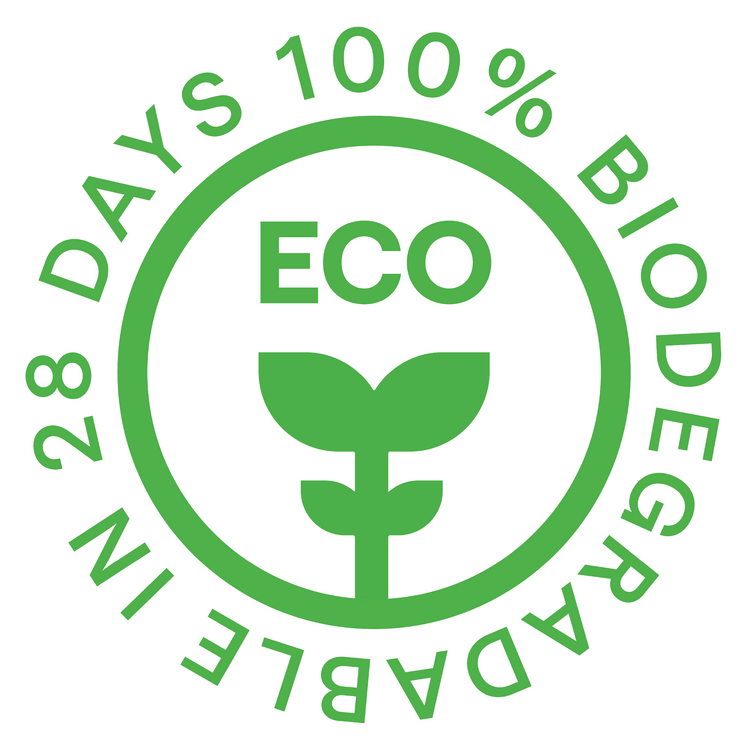 FAQs
Are your products plant based?

Yes! Our products are plant based. You can learn more about our key ingredients on the About Our Products page.
Do your products contain fragrance or colorants?

No, non of our products include fragrances or colorants. The reason is that both fragrances and colorants are usually very toxic to aquatic life
What are the shelflife of your products?

Our All Purpose Cleaner has a shelflife of 3 years after the manufacture date which is printed on the bottle