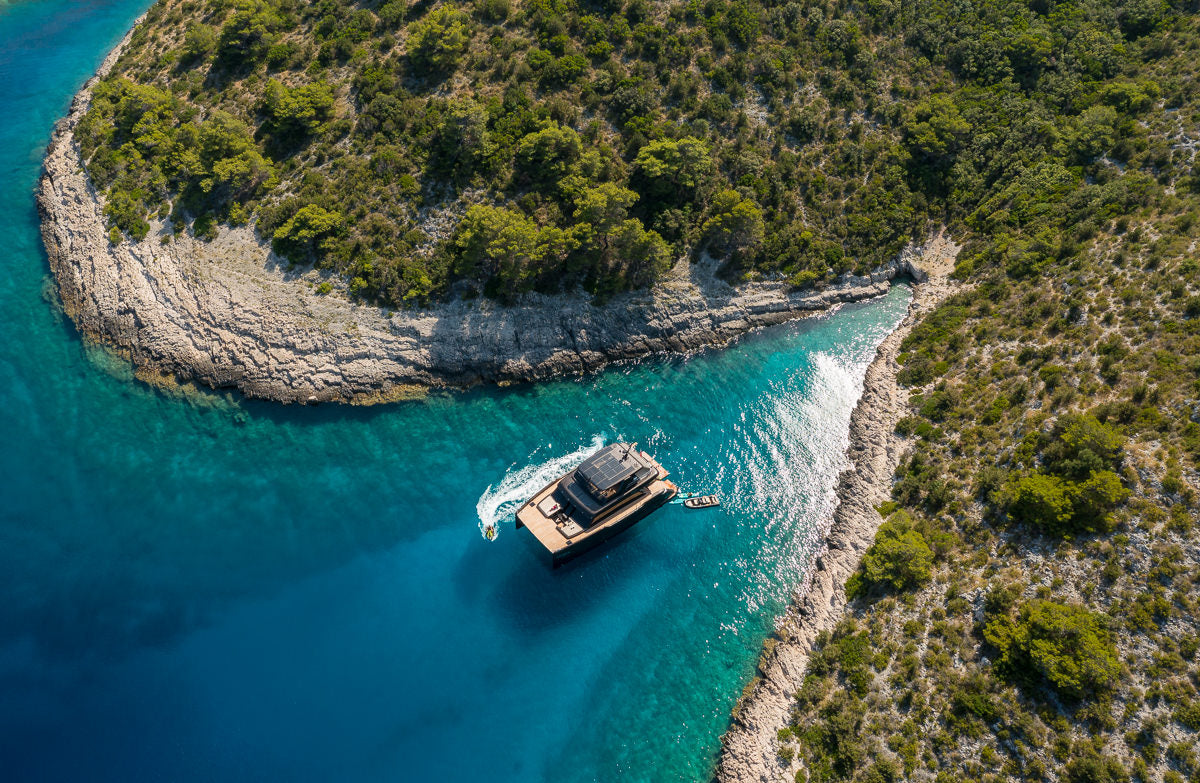 Sailing Into Success with Jakov Bošnjak, Founder and CEO of Ocean Sailing House
Ajla Keško
We, at NatureSafe Marine, are always seeking inspiring stories around us, that align with our commitment to environmental sustainability. Today, we have the privilege of introducing you to Jakov Bošnjak, the CEO and Founder of Ocean Sailing House. In this interview, we will talk about Jakov's journey, his passion for yachting, and his pursuit of sustainable yacht charters. This charter not only provides exceptional experiences but also contributes to the preservation of our oceans.

1. Tell us a little bit about yourself. 
I have been part of the Croatian charter world for over 20 years. I was working in different positions and with different companies within the industry. In 2018, I decided to create my vision of the charter company in which I always wanted to work, to create an environment where new ideas are born, and old ones are improved. A new idea at the time was a crewed catamaran charter.

2. Can you share the story of what inspired you to create your own vision of yacht chartering? 
In 2012, I started working with crewed catamarans with Lagoon 560 Artic Queen. This 56 ft long catamaran was one of the first of this kind in Croatia. It was crewed with 2 crew members and luxuriously equipped with new gadgets and water toys. The average charter price for this yacht at that time was 15000 €/week + expenses. 
Inspired by the success of Artic Queen, I founded Ocean Sailing House in 2018. The idea was to have a fleet of this kind of vessels; offering a super yacht experience and service on "smaller" yachts. OSH fleet grew fast. In 2020 we introduced even bigger catamarans. Two Lagoon 620 Twin and Duolife, Sunreef 50 Solitaire, and Sunreef 60 Vulpino whose charter prices varied from 20000 € up to 40500/week + expenses in summer 2022.
In the summer of 2023, we grew even more. Thus, we introducing two more Sunreef 50s Zara & Sweet Dreams; and 70 Sunreef Power "Amber One". Sunreef Yacht models gave OSH the opportunity to develop even more in the niche/segment with crewed catamaran charter in Croatia. I appreciate the semi-custom build and quality executed on the Sunreef Yachts. I personally went a couple of times to Gdansk, Sunreef shipyard to assist the owners during the design meetings in terms of equipment and sometimes (if needed) décor. We are more than acquainted with Sunreef models inside and out and have hands-on experience with chartering the Sunreef Yachts vessels in Croatia. 
Therefore, OSH, as the hub for the
Sunreef Yachts models in Croatia
, has the opportunity to offer unique service on these exceptional yachts. We create the charter price while keeping in mind to preserve the yacht's sustainability. This way, all parties involved are happy; the yacht owner as the investor, OSH as the executor, and guests as the consumers. 

3. With more than 15 years of experience in the charter industry, what are some key insights you've gained that have influenced the unique approach of Ocean Sailing House?
In all of the charter companies where I worked, I always encouraged innovation. It was always a unique kind of "own story", even though I was "just" an employee. It was up to the owners whether they wanted to accept such an approach or not.  Each charter company needs to have the vacation story they would like to pass or make a reality for the end customer. For many of our guests, the summer holidays are the only part of the year that they can be themselves. Where they can experience something new, and treasure it for the rest of the year. Therefore, we need to make sure the clients have the best time possible in Croatia. 

4. Flexibility and variety seem to be essential aspects of your charter philosophy. Could you elaborate on how these factors shape the charter experience you offer? 
Flexibility and variety are the greatest indulgences of a yacht charter. No other holiday offers a changeable backdrop of superlative cities, coastlines, and islands and the prospect of new experiences every day. Go when and where you want, with people that matter to you the most. 

5. As the Founder, what are the core values and mission that drive Ocean Sailing House's operations and services? 
I would like for OSH to become the synonym for unique charter service (charter experience) on these exceptional vessels, keeping in mind to preserve the yacht's sustainability, so all parties involved are happy.

6. Sustainability is a growing concern in the yachting industry. How does Ocean Sailing House approach environmental responsibility in its operations and charters? 
Environmental responsibility should become number one in the yachting industry. Honestly, we are not there yet, and we are still stuck in the mindset that somebody else should think about this.
Using
NatureSafe Marine products
is a drop in the ocean. We should all do more starting by educating the new generations, and omitting the use of single-use plastic.  
7. Could you share some examples of how Ocean Sailing House incorporates sustainability practices into its charters, ensuring minimal impact on the marine environment? 
All our crewed yachts have fully operated water-maker systems, eliminating the accumulation of single-use plastic bottles. New crewed catamarans are also equipped with solar panels and "night mode" systems reducing the use of generators. At embarkment, OSH staff always emphasizes the importance of preserving the Adriatic Sea.
Honestly, it is my experience that the whole yachting community, including both owners and guests and aware of the importance of nature preservation even more than "normal" tourists. They know more about sustainability and share the ideas of preserving the sights that they and generations to come will enjoy. 
Sunreef Yachts is known for the implementation of new technologies in order to produce innovative catamarans, that generate green energy.

8. Your fleet includes the impressive Sunreef 70. Could you tell us more about this collection and what makes it unique for your customers? 
70 Sunreef Power is a unique charter product, accommodating up to 8 guests catered by the 4 crew. Her uniqueness is not only in the sleek design and luxury space that clients can enjoy but also in the ability to moor at any town key or enjoy a peaceful night in the secluded bay due to her compact size. Amber One is also equipped with a water maker system, solar panners, and a night mode system in which, for example, AC can be used without a power generator; without burning fuel and emitting unnecessary fumes in nature. 

9. Can you share a particularly memorable or inspiring experience that a guest had during a charter with Ocean Sailing House? 
There are so many, but the best is of course kept private as privacy is something we value and tend to preserve for our clients. Our clients tend to enjoy beautiful sights but also things that tend to fast forward during their busy everyday life like sitting down to a nice meal with family and friends, enjoying the sunsets, having time in peace to read a book, trying new water sport or have island adventure. 

10. Any future goals for Ocean Sailing House? Are there any new initiatives or expansions on the horizon? 
We would like to continue our path to execute the best service on the crew charter catamarans for our clients.; grow our crewed charter fleet for up to 10 vessels, all equipped with the most nature-friendly and sustainable equipment, staffed with the most professional and best people in the industry. All to provide the best summer vacation experience in Croatia. 
We would like to be pioneers in making Croatia a go-to destination for this kind of holiday whether with family or friends. We want Croatia to become a unique destination experience. With the Adriatic Sea, we just need to work together with this natural source; not use it/abuse it and then end up with nothing to pass on to our children. 
Sunreef will make the trip to Cannes this year and showcase three Eco range sailing catamarans: the Sunreef 60 Eco, Sunreef 70 Eco, and Sunreef 80 Eco. These remarkable vessels represent the epitome of green luxury yachts. Furthermore, these innovative catamarans can generate green energy while sailing thanks to a state-of-the-art hydrogeneration system.

11. If you could share one meaningful message to reach as many people as possible, what message would that be?
We should all start thinking about the future, not just to make money and run. The whole industry should change from the state level to the bottom. Start from schools, educate the new generators about a sustainable way of life, tourism, and development. Educate children so they can keep the tradition and introduce new technologies to make the world a better place. Tourists in Croatia should be the backbone of the whole country where we serve onboard bread made from wheat in Salvonia, olive oil from Istria, wine from Peljesac, apples from Neretva Valley, fish from the Adriatic Sea, Lamb from Pag, etc., and there are many more examples. We need to stop being just consumers, we need to start actively participating in all expectations of sustainability and abusers should be shot down and punished by the whole society.

Jakov's story is a testament to the power of passion and purpose in shaping the future of yacht charters in Croatia. His determination to create unforgettable experiences while protecting the marine environment is shown through every aspect of Ocean Sailing House. As Ocean Sailing House continues to expand its fleet and initiatives, we are reminded that true luxury goes hand in hand with responsible choices for the future of our oceans and future generations.