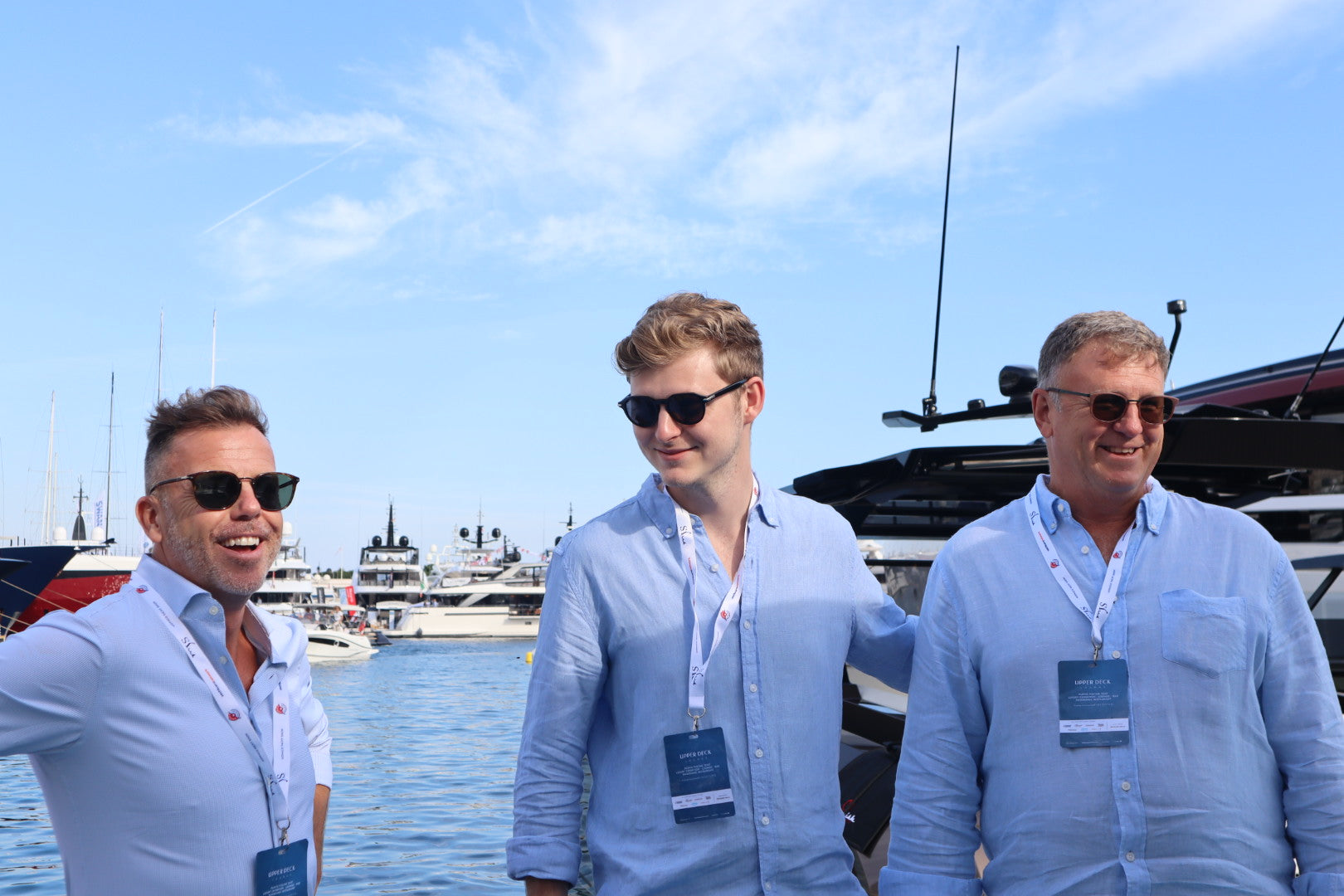 Meet the Founders: Who Are the Visionaries Behind NatureSafe Marine?
Ajla Keško
Have you ever thought about all of the encounters in life, of the people we cross our paths with? Sometimes we attribute some encounters to chance and others to destiny. Sometimes, it is just meant to be. It might not be obvious from the start but, in the end, you realize that everything happens for a reason.
I will take the freedom to attribute the encounter of the founders of NatureSafe Marine to a destiny, not a chance. After all, destiny can surprise us, right? That is how, in Split, Croatia, three people from different parts of the world met. It was unexpected, but it sparked something amazing thanks to a shared passion for ocean protection. This is their story and how they started NatureSafe Marine.
In this blog post, meet Keith Kirby, Cameron Kirby, and Declan O'Rourke - the founders of NatureSafe Marine.
1. From South Africa and Ireland to Croatia. Not only that you have built a home here, but also a business. But let's start from the beginning. What brought you to Croatia in the first place? 

Keith: My father-in-law is from the Island of Vis. In 2003 he brought the whole family to Croatia to meet the Croatian part of the family and explore his heritage. I fell in love with the natural beauty, the old stone houses, and cobbled streets, the many islands, and most importantly to me, the beauty and tranquility of the Adriatic Sea. We managed to do some scuba diving on Vis including a dive in the Blue Grotto off Biševo.
Cameron: My grandfather is from the island of Vis and in 2003 at 18 months old I made my first trip to Croatia. Over the next few years, I visited Croatia several times. I fell in love with Dalmatia and its many islands. My parents moved to Split in 2021 and I have been visiting multiple times a year since then.
Declan: I discovered Croatia while working on M\Y Phoenix during a charter along the Adriatic coast. I was taken aback by its clear blue sea, beautiful coastline, and over 1,000 islands. I felt this was a place that I would like to explore more and 15 years ago it was not the tourist destination that it has become today.
2. How did the story of NatureSafe Marine begin? Do you remember the moment when the idea of creating eco-friendly cleaning products for the yachting industry was born?
We can say that our story of NatureSafe Marine began with a shared concern. Having first-hand experience in the industry and with the additional observation of charter boats and yachts being cleaned with harmful chemicals on an everyday basis, we saw the potential for improvement with the introduction of eco-friendly cleaning alternatives. After studying product ingredients, yacht water systems, and more we identified an opportunity that we could act on to protect the ocean. We remember thinking that there had to be a way to create a product that is as effective as petrochemical-based products whilst being safe for the ocean. After lots of discussion between the three of us, it became clear that this is an area where we can make a significant contribution to the sustainability of the oceans.
3. Sustainability is at the core of NatureSafe Marine's values. How did your personal experiences and values align to create a brand that actively promotes environmental protection?
Declan: I grew up in Ireland surfing from the age of 13 and I simply developed a love and huge respect for the ocean. I consider myself a child of the world; I have visited over 80 countries and lived in 7 of them. Everywhere I have traveled or lived over the past 30 years, I have seen more and more marine/plastic pollution which does not sit well with me and it seems that the majority of the industry is not paying attention. We are hoping that NatureSafe Marine can help change this.
Keith: I started windsurfing around the time the first windsurfers were invented. I competed in many one-design regattas, slalom racing, and long-distance races. My love of the ocean led me to research and explore what is beneath the surface. Scuba diving allowed me to see a truly amazing world. I traveled to many parts of the world on my quest to explore coral reefs and unique locations. The state of the coral reefs in Mauritius was desperate, the local fisherman did so much damage. My previous entrepreneurial experience of developing utility-scale wind and solar farms gave me deep insight into sustainability and laid the foundation for starting NatureSafe Marine. 
Cameron: For me, it all started growing up in the Winelands in South Africa. We lived in a small valley, surrounded by huge towering mountains, with acres of vineyards and olive trees stretching as far as the eye could see. Growing up in this beautiful environment and spending so much time outdoors taught me, from a young age, about the importance of respecting nature and preserving it just as I found it. I was also fortunate to spend a lot of time in Kruger Park which is nature at its rawest. Being able to see all these magnificent animals in their natural habitat has ingrained in me that we need to do more to protect our planet and those who aren't able to protect it themselves.
4. Your journey involved collaborating with experts in the yachting and environmental industries. How did these partnerships shape your product development and commitment to sustainability?
Together, we have a deep understanding of the yachting industry's shortcomings. Declan, with 15 years of experience on superyachts and in yacht construction, recognized that the majority of products used were harmful to both marine life and crew members' health, motivating us to drive change. Keith's background in renewable energy and comprehensive knowledge of industry requirements pushed us to collaborate with specialists. This allowed us to conduct vital research and development. The focus was on natural ingredients that meet yachting industry standards while remaining ocean-safe. Cameron emphasized the importance of partnerships, acknowledging that entering the yachting industry required education on industry standards and practices. These collaborations were crucial in developing our eco-friendly product range. We aimed to understand the product's effects on yacht surfaces, crew, and, most crucially, the marine environment.
5. As the founders of NatureSafe Marine, what do you envision for the future of the company? How do you plan to further promote eco-friendly practices in the yachting community?
Our mission revolves around marine life protection and reducing single-use plastics, which often end up in our oceans. We are committed to innovation and sustainability. We are expanding our product line through ongoing research and development to meet the industry's growing demand for eco-friendly cleaning solutions. Our upcoming sachet range exemplifies this commitment by minimizing the carbon footprint from shipping and promoting the "bottle for life" concept on yachts.
It is not an easy path to introduce change into an industry that is set in its way. However, True innovation is constant development. When we launched our ready-to-use range, we were already in the process of developing our sachet range. We have seen a huge shift in the yachting industry with crew and owners opting to go green. We have identified a unique opportunity and we feel it is our responsibility to provide the yachting industry with a greener alternative.
6. Your product range has expanded since you first started. Can you share some insights into your plans for expanding the product line and introducing innovative eco-friendly solutions?
Sustainability is at the heart of our approach. That is why we are planning to transition to a sachet-based solution. This will allow clients to reuse their bottles by simply refilling them with our sachets and water. While this business endeavor requires extensive time, effort, and research and development, we are fully dedicated to achieving this goal.
We launched our initial cleaning range which focuses on interior rather than exterior cleaning. We currently have around 20 products on the drawing board which we would like to develop and market in the upcoming years. However, we need to be patient as these products are more complicated to produce whilst balancing sustainability and efficacy.
Nonetheless, we are determined to introduce a more environmentally friendly method for cleaning teak. We are currently addressing the issue of a two-part process that releases highly toxic substances into the sea.
7. Yacht owners and crew members play a vital role in adopting sustainable practices. How do you engage with your customers to raise awareness about the benefits of using eco-friendly cleaning products?
As they say "seeing is believing" and trying the product makes such a difference. Therefore, we would like to highlight our hands-on approach of personally walking the docks and providing product samples to crew members. This allows us to demonstrate that choosing NatureSafe Marine products will not compromise the cleaning efficiency, but it also preserves crew health and significantly reduces pollution in the marine environment.
Although we are currently employing multiple strategies to raise awareness, nothing seems to beat a face-to-face conversation with the crew. We have found a lot of the crew members are already aware of their impact and want to minimize it as much as possible.
8. What are your passions outside of the yachting industry and NatureSafe Marine? How do you incorporate these passions into your work-life balance?
Declan: My passions revolve around the sea as you may have gathered, so I do a lot of kite surfing in Croatia and surfing in Portugal and Indonesia when the opportunity allows. I like to be as close to the sea as possible; it helps to motivate me to keep doing what we are doing with NatureSafe Marine.
Keith: I am passionate about boating, sailing, and skiing. During summer, we take the boat many times during the week after work to swim and watch the sunset. On weekends, we explore bays further out on the nearby islands. If not boating we walk along the Riva, through the marina, and along the coastal walkways with our dog Toby. I love to travel and explore new places, their wines, and food.
Cameron: For me, nothing beats traveling and experiencing new cultures. I am very passionate about skiing and pretty much anything with speed involved and enjoy being out on the water. In the next few years, I want to get a few more sailing licenses. Also, I really enjoy cooking.
9. Who or what has been the greatest source of inspiration in your life?
Keith: I am greatly inspired by innovators in all fields, people who have a passion and are driven to invent and never give up. I am also inspired by form and function in design.  People like Steve Jobs, the Wright Brothers, Dr. Ferdinand Porsche, Nikola Tesla, and so on.  As a passionate sailor, I marvel with respect for the extreme yachtsmen and women competing in races like the Vendee Globe or the Ocean Race.
Cameron: This is an easy one for me. Keith.
Declan: I can see that my 8-year-old twin boys are growing a love for the sea. We spend a lot of time at the coast and this inspires me even more to do our part to leave nature in a better condition for their future.
10. Lastly, what message would you like to share with the yachting industry and individuals who aspire to contribute to a greener, more sustainable future?
Keith: Focus and embrace the triple bottom line, People, Planet, and Profit.  The yachting industry, companies, and leadership should commit to focusing as much on social and environmental concerns as they do on profits. Leaning towards more balance.
Cameron:  We need to do more to protect the ocean. We need to work together to create a sustainable yachting industry that hopefully one day gives more back to nature than it takes from it.
Declan: Alone we are one, together we can make a difference. Rome was not built in a day but it still stands. Let us all work together to build something lasting for the next generation.
Their message is simple: Let us work together to leave a better world for the next generations. NatureSafe Marine is not just a business; it is a commitment to protect our oceans, and a proof that amazing things can happen when people unite for a cause.