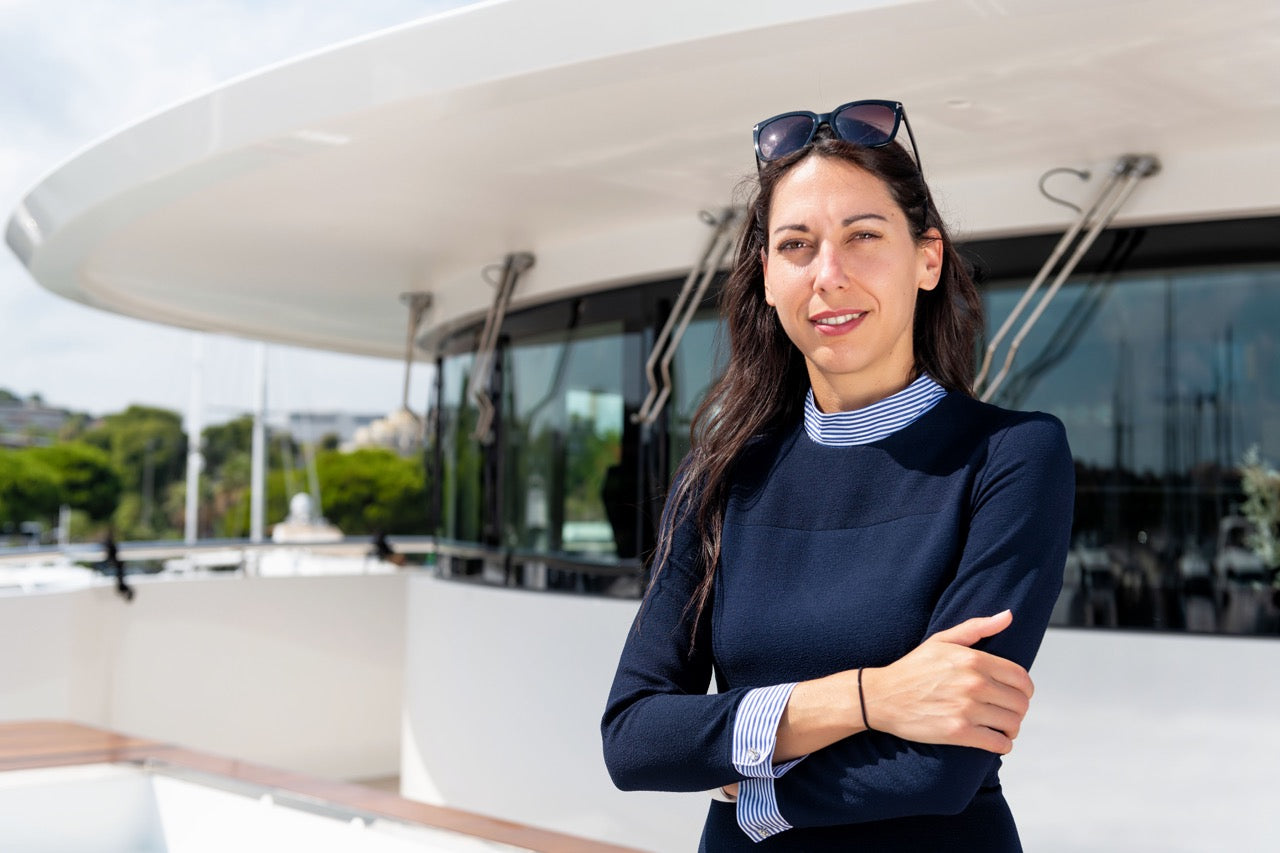 Shifting the Yachting Industry Towards More Sustainable Future: An Interview With Claire Ferandier Sicard, the Founder and CEO of ETYC
Ajla Keško
In the realm of luxury, the yachting industry has long been associated with extravagance and the epitome of lavish living. However, there is a growing wave of individuals and companies who are rewriting the narrative, those who pay attention to Mahatma Gandhi's timeless wisdom: "Be the change you wish to see in the world."
While many view this phrase as a cliché, there are those who understand its significance. They recognize that true transformation begins from within, and by embodying the change they wish to see, they can inspire and influence an entire industry. Claire Ferandier Sicard, the Founder and CEO of ETYC, started her entrepreneurial journey with a simple goal: to reduce her environmental impact within the yachting world. Yet, her path led her to a more significant realization — the need to amplify her efforts and help others who are striving for the same purpose.
In this blog post, we're sharing the story of a woman who had first-hand working experience in an industry renowned for luxury and saw the potential for sustainability. Claire started as a chief stewardess but ended up becoming an ecopreneur and advocate for sustainability in the yachting world.
1. Could we start by you sharing a bit about your background and what initially drew you to the yachting industry?
I first studied psychology, from which I took a degree. Then I moved to the south of France where I discovered the yachting industry. I grew up in the Caribbean, where I've been sailing with my father since I was very young. Passionate about the ocean and boats in general, I love being on the sea. I started as a hostess in 2014. Then, I spent 8 years on board as chief stewardess, and have never left yachting since.
2. It's very inspiring that ETYC is focused on sustainability. But what inspired you to make a shift from working as a chief stewardess to founding ETYC?
I didn't really want to set up a business. I was looking for a course in sustainable development to train me to reduce my environmental impact on board. When I couldn't find one, I decided to set it up. Then came the day when I had to stop working on board to devote 100% of my energy to the business so that it could grow. But I miss cruising. :) 
3. Could you tell us about your journey in becoming an entrepreneur and starting your own company? What were some of the challenges along the way?
I was faced with many challenges for which I was not prepared. First of all, I didn't know anything about setting up a business. I didn't even know the vocabulary, like what a "business plan" was. I had to learn EVERYTHING from the ground up. I'm still learning every day how to run a business properly. 
Then I had to learn how to create a training course. That took a lot of time! Then I had to learn about "sustainability" because I knew nothing about that. It took me a year to create the first version of the course and another year to improve it. 
Finally, I opened the company in Monaco where the rules are not the same as in France. You need government approval and a lot of paperwork. But the Monegasque system is really well set up. I took a training course in Monaco entitled "How to set up a company in Monaco", where I found all the answers to my questions. And now we're in the process of becoming an unlimited liability company. Itt's a lot of work again, but no pain, no gain!
4. The yachting industry has a reputation for luxury and opulence. What sparked your passion for making this industry more sustainable?
What I saw on my cruises in terms of ocean pollution pushed me to take action. I wanted to make an impact in my life and in my work. The yachting industry is a world of passionate crews and I have no doubt that many of us feel the same way! Leading the way is the best feeling there is, and through training, we give the crew the means to lead the way in turn.
5. ETYC offers a range of sustainability services for yacht crews. Could you elaborate on the impact your training, coaching, and audits have had on reducing the environmental footprint of yachts?
Reducing the impact varies according to a number of factors: How much is the owner prepared to invest? How much is the crew prepared to do? How is the boat used throughout the year? 
During the training, we create a roadmap of actions they can take over the long term.  In 100% of cases, the yacht's crew reduced: water consumption, energy consumption, fuel consumption, and the amount of waste! In 100% of cases, crews are implementing different procurement methods. 
Our job is to provide them with enough sustainable solutions to help them reduce their impact, which is why we created ETYC-PAGES, our sustainable directory. 
6. ETYC has developed its own Environmental Management System - ETYC YACHT. Can you explain how this system works and how it benefits yacht crews?
The Environmental Management System is a very effective way of taking stock of the current situation (the impact of the yacht at a given moment) to create a roadmap for action, but also the first means of creating data based on actions taken. 
The EMS makes it possible to classify actions according to whether they are the most polluting or the least polluting. 
When we launch our digital platform, we'll be able to show the public how the crew has reduced the boat's impact according to the department and action taken.  
Many crews want to take steps to reduce the impact, but most of them don't know where to start, they don't have enough knowledge to make the best decision and they can't really see the result if the rest of the crew don't follow. The desire is there but it's often a bit messy. 
With the EMS, the advantage for the crew is to see the results of their efforts and actions. Doing your job is good, but knowing that you're doing a really good job is even better. 
7. Looking into the future, where do you envision the yachting industry in terms of sustainability practices, say, in the next 10 years?
I don't have any predictions at all... I hope that the industry will do more for the current fleet and not just focus on the next generation of yachts. 
8. In the past five years, have you noticed a shift in the yachting industry towards embracing more sustainable practices? If so, could you highlight some key changes or trends you've observed?
I'll focus my answer on the actions on board. 
ETYC was created in 2019, and if the yachting industry had implemented more actions over the last 5 years, the company would have more employees… and this is not the case.
The term 'sustainability' is being used more and more. I think the problem is a lack of universality. Everyone is doing their own thing with what they know. But sustainability is a job in its own right and not every boat or company has a sustainability manager dedicated 100% to it. Crews also need to be able to implement actions without being overwhelmed with extra work. That's where our role lies. 
9. What are your aspirations for ETYC in the upcoming years? 
The term "sustainability" is certainly being used more and more, but the actions are still too few and far between, and individually taken on board.  One of the problems is the lack of uniformity, communication, and support! The crew is under a lot of pressure to reduce their impact, but even the ports are not efficient at collecting the waste sorted on board. The base! 
The trend I've noticed is that this year we've heard more than ever about alternative fuels. The benefits of using biofuel are very effective, and because a very iconic boat, the M/Y Savannah, led the way at the Monaco Yacht Show, it's now a very serious option that management companies will consider when offering charters with the two options of diesel or biofuel.
10. As a successful female entrepreneur, what message or advice would you like to share with other women who aspire to pursue their dreams and make a positive impact through entrepreneurship? 
I'd tell them that the world needs them! Especially if it's to fight for the planet. 
A recent report by the European Investment Fund shows that: "The best way to achieve climate objectives - and to increase profits - is to give responsibility to women".  So don't ask yourself too many questions - just do it! 
In an industry like this, where luxury often takes center stage, there are those who quietly lead by example, showing us that sustainability is a choice worth making. Claire's journey from a chief stewardess to an ecopreneur within the yachting industry is a testament to the power of personal commitment. In choosing our sources of inspiration, let's remember that change begins with ourselves, and by choosing those dedicated to environmental good, we can collectively shape a better, more sustainable future for all.